For this project (my first time ever grinding a mirror) I ordered an 8″ Black Vitrified Ceramic (BVC) blank without a pregenerated curve from ASM Products in Ste-Basile PQ. Ordering from Canada is always cheaper once you factor in all the taxes – all told the kit cost about $185. It includes Aluminum Oxide grits in 46, 80, 100, 240, 500, 1000 and 2500 and a supply of cerium oxide and pitch for polishing. A plate glass tool is also included.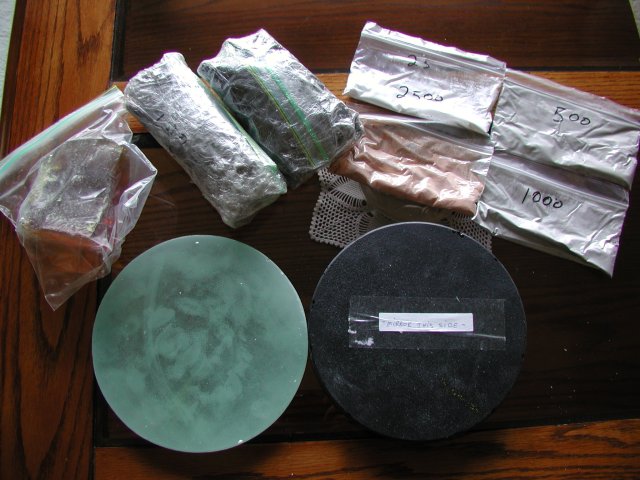 When my kit arrived I was disappointed to see that both the blank and the tool had some chips in them at the bevel, one or two of them quite serious. I queried the Andre at ASM and he said his diamond cutter wasn't working too well and he was waiting on a new blade. Although I thought it was pretty poor quality control, I decided to just ignore the chips and hope they grind out in the grinding process. You can just see the worst of them in the upper right (1 o'clock position) on the blank. If I order from ASM again it'll be on the condition that the blank is unblemished or it'll go back. In this case, since the mirror was oversize (8.25″) and is a "training" mirror anyways, I forged ahead.
The first grit I was supplied with was 46 so I dutifully began hogging out my curve using "chord" strokes, with the center of the mirror being ground against a short section towards the edge of the mirror. I got to .25 sagitta very quickly and switched to 80 – I was quickly told on ATM-LIST that 46 was WAAAAY too rough for this size of mirror, BVC (which is softer than Pyrex or glass) to boot. Most people said start with 120, so I got there as soon as I could grind out the pits and scratches from the previous grits. Here's my grinding log:
| | | | | |
| --- | --- | --- | --- | --- |
| Date | Grit | Wets | Stroke | Sagitta |
| 09/28/02 | 46 | 1 | Chords | |
| 09/29/02 | 46 | 10 | Chords | |
| 09/30/02 | 80 | 3 | Center | .035 |
| 10/01/02 | 80 | 14 | Center | .04 |
| 10/03/02 | 120 | 22 | Center | .05 (desired sagitta for F10 reached) |
| 10/03/02 | 240 | 10 | W, alternate MOT/TOT | .05 |
| 10/04/02 | 240 | 10 | W, alternate MOT/TOT | .05 |
| 10/06/02 | 240 | 2 | W, alternate MOT/TOT | .05 |
| 10/06/02 | 500 | 10 | W, alternate MOT/TOT | >.05 |
At this point I decided to measure the focal length of the mirror using the sun test – I wet the mirror and took it outside during a sunny day. My wife held a dark circle of cardboard (all due precautions taken to ensure she didn't get the reflection of the sun in the eyes!!) and I measured where the image came to focus – darn, 75″ instead of 80″, I'll need more MOT grinding from hereon in until I get my ROC back. I managed to scratch the mirror (I think a cloth I used to wipe oil off the mirror had been contaminated by some grit from somewhere) so I went back to 240 til I ran out (10 wets). Only one fairly deep but very short scratch remains, it'll likely come out in 1000 so I'm forging ahead.
| | | | | |
| --- | --- | --- | --- | --- |
| Date | Grit | Wets | Stroke | Sagitta |
| 10/8/02 | 1000 | 4 | W, alternate MOT/TOT | >.05 |
| 10/15/02 | 500 | 10 | W, mistakenly started MOT then TOT (sigh) | >.05 |
During this pause in grinding I also decided to take Richard Schwartz's advice and make a Dental Stone tool for my pitch lap. The reason for this is that if you need to go back to fine grinding for any reason (such as a scratch, I got a couple of minor ones on the mirror already from wiping with a contaminated cloth) you need your tool again – if you build your pitch lap for polishing on the tool, you need to strip the pitch and rebuild it, a pain. So, I got Richard's plans for a Dental Stone pitch lap tool and went looking for dental stone. Unfortunately, my memory sucks and I ended getting a large quantity of Dental Plaster! Oh well, being an experimenter at heart, I decided to give plaster a try. The method is basically to cover the mirror in a light coat of lubricant of some kind (I used vegetable oil) then some saranwrap (cling wrap), then put a "dam" around the mirror to contain the poured plaster – see the above link for more info.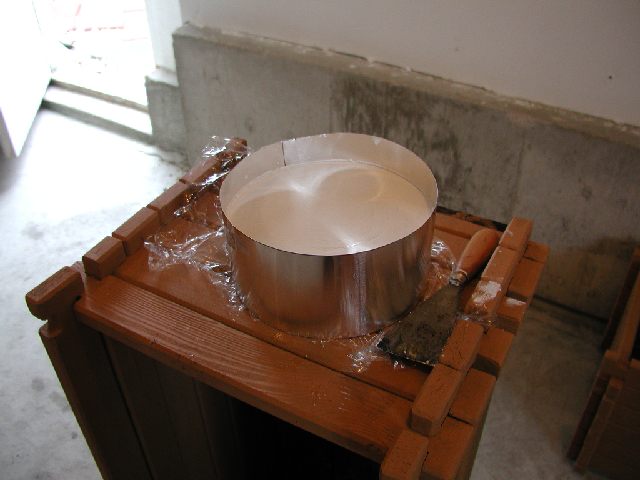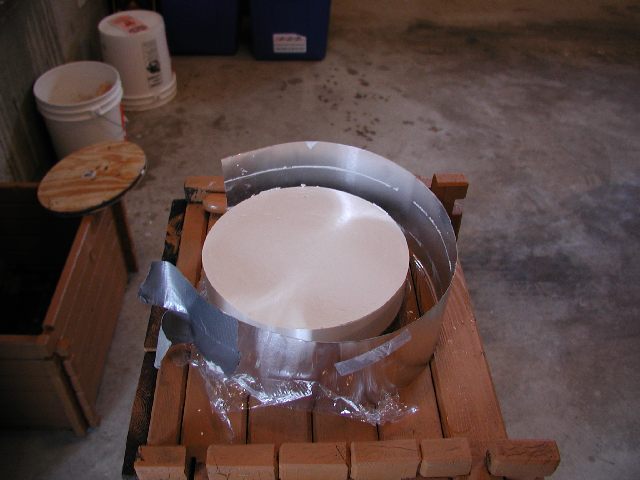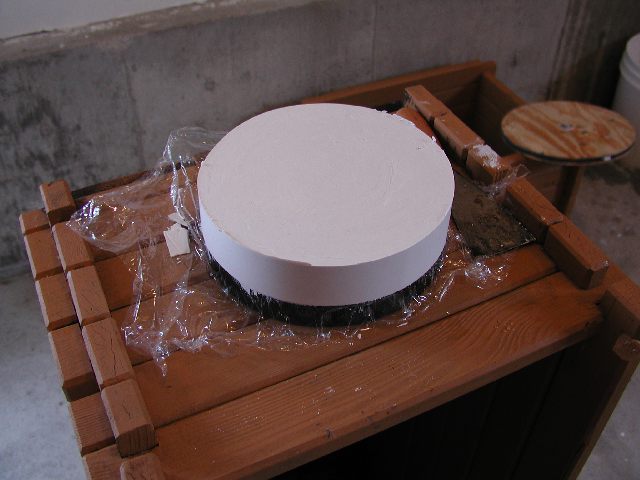 My first "pour" using a wax paper dam wasn't too successful, as I tried to lift the tool off the mirror too soon (I was worried about heat from the curing plaster on the mirror). Also the wax paper dam I used didn't work worth… well, worth a dam. Second attempt I was mixing the plaster and adding more powder, when the dam stuff went solid on me 🙁 Third time, I decided to use some dam aluminum instead. Dam thing worked 🙂 The photos above are of my last successful pour, obviously. A little thick but thats ok, makes it easier to hold onto. I ground a couple of wets on the plaster tool to make sure it was properly spherical (using a sharpy test as best I could) and it looks ok. I need to impregnate the tool with pitch dissolved in turpentine to seal it, it's nice and waterproof but pourous, it sucks in water til it's full then it's fine to work with. Seems quite hard. I'll finish to the tool off when I need it. Seems like making my pitch lap will be simplified as local ATM Darren Townsley has kindly offered a lap mould for me to cast my lap rather than doing squares. Back to grinding!
Not long after I made my lap tool, I decided to make a tile tool the same way. So, I went off to Home Depot and found they had stock of the right kind of 1″x1″ tile for $6 a sheet. Since I had a few mirrors I want to make and some other ATMers in town might need tiles, I bought a box of 10. Casting went well and was similar to the tool described above so I shan't bore the reader with a repitition. However, when I started grinding with my new tool, I noticed that the mirror was getting scratched – I had cut some of the tiles on the mat for the tool with tile nippers but hadn't bevelled them all that well, plus I had left some small pieces of tile. Bevelling the partial tiles and removing the really small pieces resulted in the scratches disappearing.
| | | | | |
| --- | --- | --- | --- | --- |
| Date | Grit | Wets | Stroke | Sagitta |
| 10/26/02 | 240 | 14 | W, 12 TOT, 2 MOT to correct sagitta | approx .05 |
| 10/27/02 | 500 | 20 | W, TOT | approx .05 |
| 10/30/02 | 1000 | 15 | W, TOT | approx .05 |
| 10/31/02 | 2500 | 7 | W, TOT | approx .05 |
| 10/31/02 | 9u | 10 | W, TOT | approx .05 |
Finished grinding! At the end of the wets with 9 micron Aluminum Oxide kindly given to me by Darren Townsley, I ended up with a very smooth surface with no scratches or pits evident. I was ready for polishing! Time to make my lap!